The following procedure is to be used only once:
After you've been trained and practiced
After you (or/and your staff) have became comfortable using GEM-CAR
After you've decided to officially start (GO LIVE) with GEM-CAR.
Step 1 – Gather the information
Have a list of all accounts with balances on hand. Information should include the customer numbers and total amounts due.
Step 2 – Opening customer accounts
Make sure the customers with A/R exist in GEM-CAR, otherwise: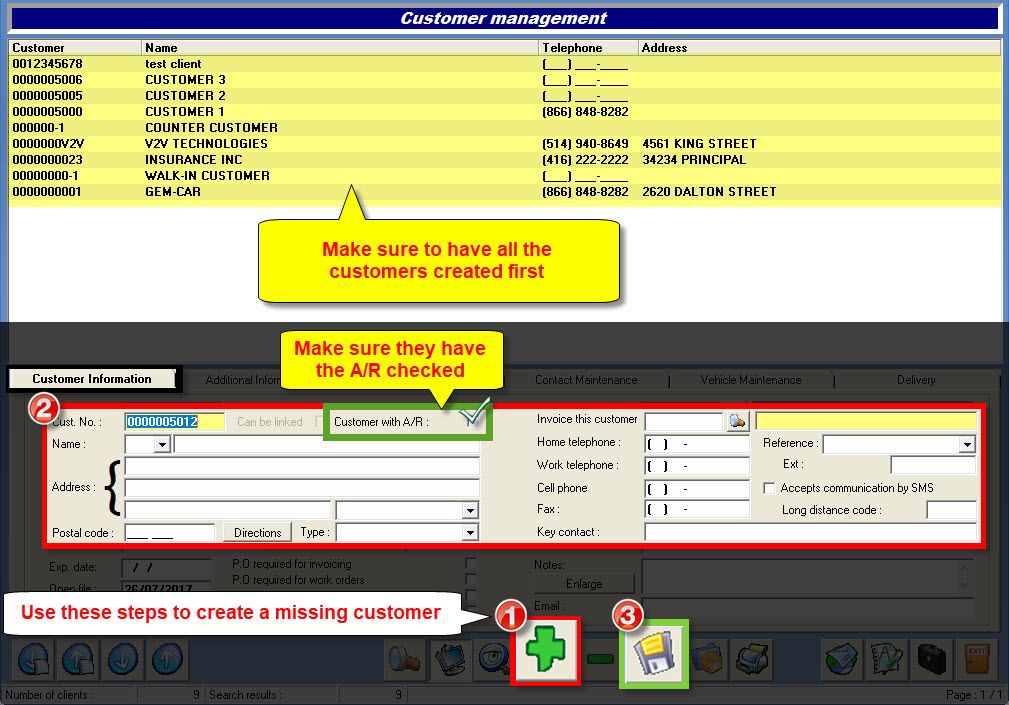 Click the to create a missing customer,
Enter the customer information in the "Customer Information" tab,

Make sure to check "Customer with A/R",

Click the disk to save,
Step 3 – Invoice entries
From the main menu, go to
Customer Management > Invoice entries
:
(1) In the "Options" section, check the  box:

"Updated receivables data",

(2) Click the to add a receivable invoice,
(3) Enter the invoice information:

Enter a customer number,

or click the to search and select a customer,

Enter an invoice number.

You can generate one if you don't have any (e.g.: BAL...),

Enter a date,
Enter the balance amount,

(4) Click the disk to save.
Repeat the (2)(3)(4) steps for each invoice and customer.
If you need to go back to a forgotten invoice, remember to check the "Payables entry to date". However, after you have started using GEM-CAR, you should never have to return to this window.
Step 4 – Validation
From the main menu, go to
Customer Management > Reports
:
From the Available reports in the left section, select "Account receivable aging",
Select a sort order (Numeric or Alphabetical),
Select a type (Summary or Detailed),
Enter or select an End date,
Enter a range of customers (All customers are included by default)
Click the printer to display the report.
Each of your entries should now be posted on this report.