Report: Inventory value report on a specific date by location or categories
On the GEM-CAR main menu:
Go to REPORT > INVENTORY MANAGEMENT.
On the new window select Inventory value,
You can choose from a Location or a Category for a more specific report,
Or you can go directly to the bottom Option 2 - Date selection, for a complete inventory report,
Then enter your specific date,
Choose Transaction,
And click on the Printer.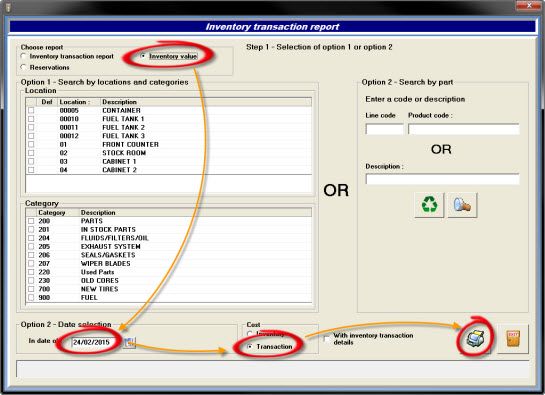 From inventory management, click on the lined paper icon (under the printer).
In the list of transactions, click on the printer icon.
Select a location and a category.
Enter the date range.
Click on the printer icon to display the report.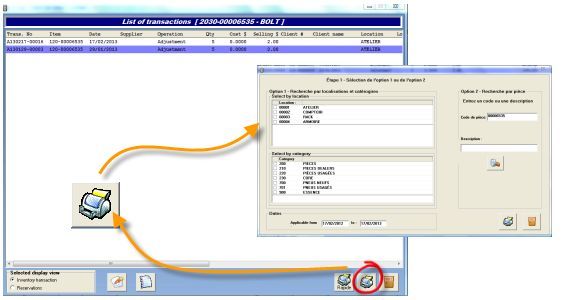 Step 1: Creating Job Types and Departments
To create various Job Type,
Close the POS (Point of sale) window,
In the Main Menu, click on Inventory Management,
In the  Inventory Management Sub-Menu, click Job Type Management.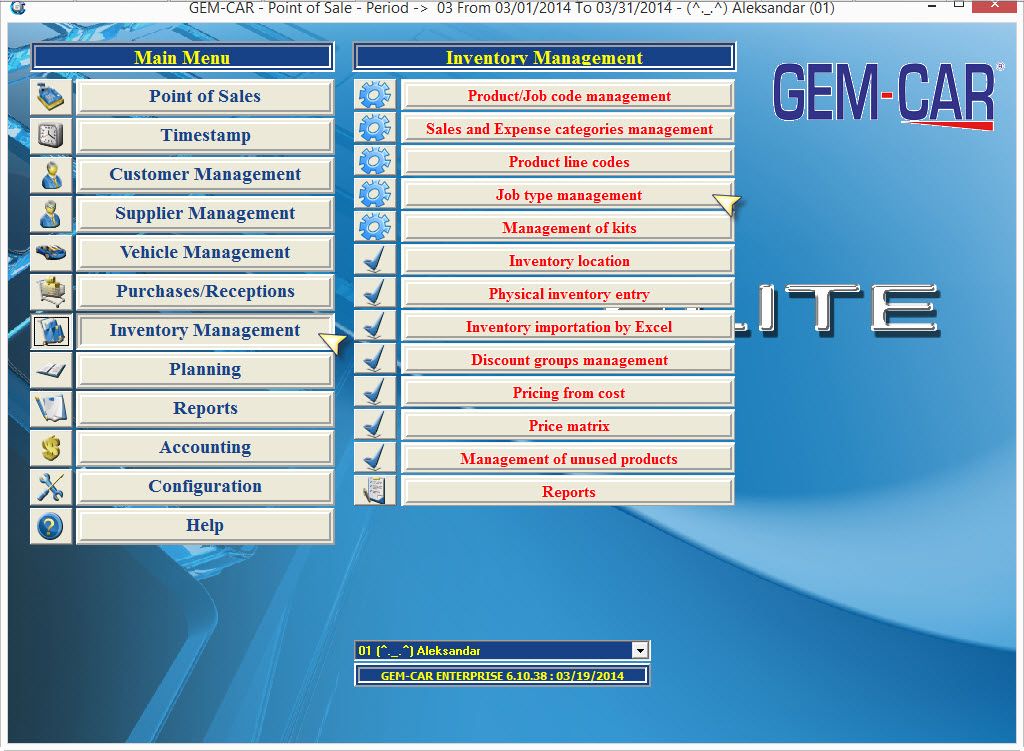 Click on the Green Add (+) icon,
Fill a Description, Select or write in a Department name, Enter an appropriate GL account number and click Active,
Save and repeat as needed to create other Job Types,
Exit.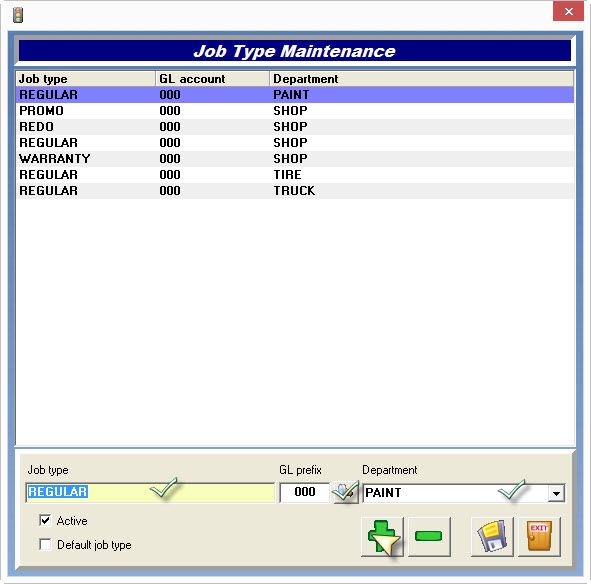 Step 2: Activating the Job Type Function
Back on the Main Menu, click on Configuration,
On the Configuration Sub-Menu, click on General Information,
Check option # 26,
Save and Exit.

Step 3: Assigning Jobs to specific Departments
Now open your POS (Point of Sale) window,
Press F1 to start a new estimate or job,
Enter a customer and his/her car,
Enter a job code,
On the Job Type scroll down menu, select the Department for this particular Job and Order.
Note: You can select a different Department for each individual Job you wish to build statistics on.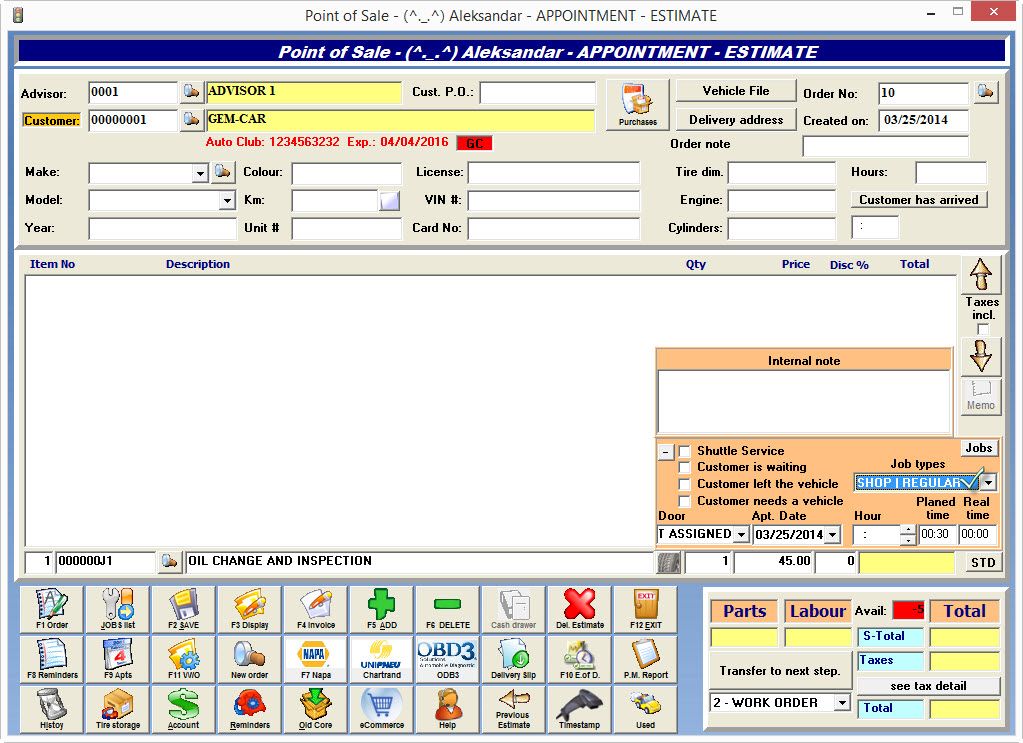 Step 1: Printing out inventory report in GEM-CAR:
Go to the "Inventory management" / "Product/Job code management".
Click on the printer.
In the bottom window,
Select the categories (do not select the service or labour categories)
Deactivate the instructions 
Choose quantities greater than "0".

When: The last day of the month at the end of operations or the first morning of the month
(option: use a saved copy): Paid service by V2V
Who: Determine who will be responsible: Controller, Parts Director and Owner (in order of priority)
What: Inventory report with the inventoried categories.

Step 2: Print out a statement of the previous and current months
Retrieve the value of your inventory at the beginning of the month.  

Inventory adjustment    
Value at the beginning of the month: A (inventory value in your statement)
Value at the end of the month: B (GEM-CAR report)
Inventory variation C: B-A


E.g.: Starting inventory 30,000, GEM-CAR inventory 100,000, Variation 70,000        
GL Accounting Transaction
1535 parts in inventory     70 0000          CREDIT     
5020 cost of merchandise    DEBIT            70 0000
 
Cost of merchandise sold:
Parts sales: D
Parts purchases: E    
Inventory variation: F    
Cost of parts sold G: E - F
   
E.g.:  D: 230,000, E: 240,000, F: 70,000, G: 170,000 
Profit on parts:  230,000 – 170,000 = 60,000
Profit margin: 60,000 / 230,000 = 26.1% (what margin should I have on my parts? FAQ )

Adjustment of core values:
Go to the PDV and click the button "Old Core".
When: End of the month
Validation of credit entries
Deletion of cores with credit memo
?
Note:
Send cores and credit entries of cores via Purchasing Dep (it is up to you to decide who is responsible)
The non-credited cores must be deducted from the cost of merchandise sold
Transaction of expected core credit:

Core GL transaction
YYYY expected credit             DEBIT            X
5020 cost of merchandise          X           CREDIT