In order to hide the car information on the POS you need to do the following:
From GEMCAR's main menu, select Configuration and General Configuration.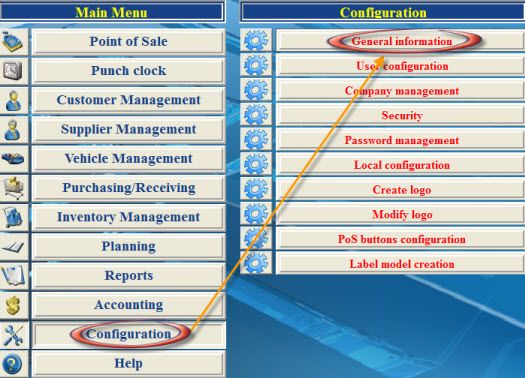 Scroll down to option 86 and tick it off.  Hit the save button on the bottom right.
Now if you open a new POS window, the car information will be hidden by a Note panel instead.  To be able to see the car info, simple click on the word MAKE on the left side to swithc between Note panel and car info.
In the Point of Sale, when adding a part :
If the quantity in stock is less than "0", the background color of the quantity field changes to red.
Otherwise, it will be yellow. 
Line color code:
Whole line in light blue: Selected line
Whole line in light gray: Job
Whole line in light red: Job whose actual time is longer than the billed time
Price with pink background: The cost of the product is at $0 or more than the sale price
Code highlighted in orange: part was added by the technician from de Timstamp

Text color code:
Line red text: - Non-inventoried item of which the parts must be ordered
                    - parts transferred online or added via the "point of sale"
Line with green text: Item that was received via the Point of Sale purchasing module.
Line with black text: Inventoried item
Line with gray text: Item that has just been inventoried but with no quantity in inventory

In order to better control the inventory, you can display a message that indicates that the piece's inventory is at its minimum via the POS when you add it to the Point of Sale.


Go to the "Configuration / General Options" menu.
In the "Options" tab, select option #49.
Save.

When a part will be added in the Point of Sale with an available quantity less than the minimum value set, a message box will appear.
Subcategories