Step 1:
On the POS window, open the estimate the parts are for,

Select the item or items being received. To select more then one item at a time, press and hold the CTRL button while selecting the items with your mouse",
Maintaining the items selected, click on the  "Purchase" icon,
Select the supplier,

Enter the invoice or delivery slip number,

If necessary adjust the quantities ordered and prices,

Click the Save icon.
Step 2 : Option for parts with CORE refund values
In the field marked Core, add or adjust the CORE value,

If the CORE is good, check the OK Core box.

If the Core is not returnable, do not check this box and the core amount will be charged to the customer.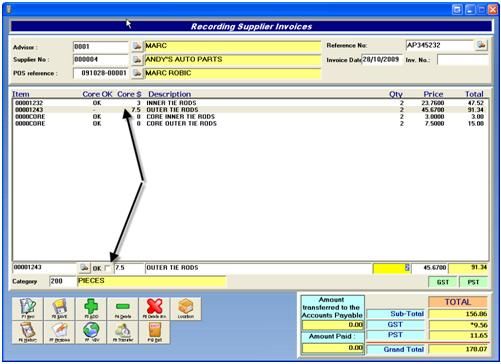 If needed, adjust the tax amounts (a Star will appear if and when tax amounts have been modified,

Step 3 : Transfer to Accounts Payable (F9),
Click on the Transfer Icon or press F9.
NOTE:in the POS window, you can hit the core icon to view all credit pending