GEM-CAR offers integration to the ADVANCE catalog. With ADVANCE's parts catalog search and ordering catalog, advisors can automatically transfer parts to their point of sale window.  


Transfers code, description, and cost

Selling can be also downloaded or push to a matrix

Quantity validation is available to check stock

Push order from GEM-CAR to the ADVANCE website.
The benefit of using an online catalog:

Use the distribution inventory as your own inventory,
Reduce mistake while ordering using the VIN decoder,
Look at part images before ordering,
Special discount based on the volume available.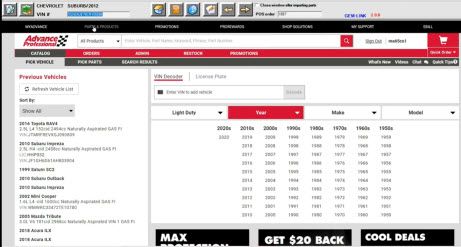 Discover by yourself how easy it is to create an estimate using the catalog



Advance Auto Parts, Inc.
Store Support Center
2635 E. Millbrook Road
Raleigh, NC 27604