GEM-CAR offers the first integration of the RockAuto catalog to our Shop Management Software. RockAuto ships auto parts and body parts from over 300 manufacturers to customers' doors worldwide, all at warehouse prices. Easy to use parts catalog. With the RockAuto Link parts search and ordering catalog, advisors can automatically transfer parts to their point of sale window.  
Transfers part, code, description, and cost

Selling can be also downloaded or push to a matrix, 

Quantity validation is available to check stock,

VIN decoder,

Push order from GEM-CAR to the catalog.
The benefit of using an online catalog:

Use the distribution inventory as your own inventory,
Reduce mistake while ordering using the VIN decoder,
Look at part images before ordering,
Special discount based on the volume available.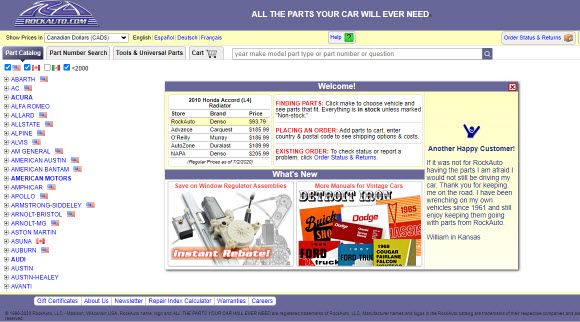 Discover by yourself how easy it is to create an estimate using the catalog

RockAuto is an online, family business founded in 1999 by automotive engineers with two goals:
Liberate information hidden behind the auto parts store counter (by listing all available items and product specifications on RockAuto.com, not just what one store stocks or one counter-person knows)
Make auto parts affordable (by remaining a strictly online company, we have no store locations, no counter-people, and don't have a lot of money tied up in slow-moving inventory. We pass on those savings with lower prices so cars of all ages can be reliable and fun to drive.)
Today, we ship thousands of parts, from hundreds of manufacturers to millions of customers all over the world. And the RockAuto catalog keeps expanding. Someday, it may be possible to build an entire car using parts from RockAuto!

RockAuto, LLC Corporate Headquarters
6418 Normandy Lane
Suite 100
Madison, WI 53719, USA
1-608-661-1376