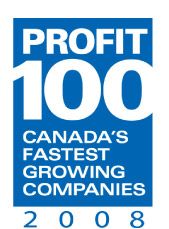 Marking their 20th annual Profit 100 listings, Profit Magazine has recently announced that V2V Technologies of Montreal has earned the 169th position from their list of 200 finalist companies from across Canada. The full story and listings are expected in the June issue of Profit Magazine. 
Among other areas of expertise, Canadian owned by V2V Technologies
, with its head office based in Montreal, are the developers of GEM-CAR, a high-performance and complete management software program designed for the automotive, truck, and tire repair and service center industry.
 
Despite its full range and complement of functionalities, GEM-CAR's overall simplicity and ease of use have been very well received by the individual shop owners and major industry stakeholders, which continues to contribute to V2V Technologies' ongoing success.

"Our goal from day one was to design and introduce a truly industry-related management software that had to be fully packed with what shop owners really need but with one common element: Simplicity!" expressed Mathieu Brunel, President V2V Technologies. "GEM-CAR is truly all that we had hoped it would be and in large part, our success has been to really listen to shop owners and maintain our ability and willingness to make changes and updates quickly".

Currently available in Quebec, the demands for GEM-CAR have been so great, that the next generation is launched (GEM-CAR Enterprise 2.0) and is fully bilingual.
"Our company and team's goal has been, and will always be, to simply make GEM-CAR the best management software program available to the auto repair industry and shop owners", said Mr. Brunel. "Our fantastic growth is the result of that commitment and proves that listening to what the customer wants and needs is a far better recipe than trying to tell them what you think they need!"