Add / Setup NAPA Prolink SE
In the main menu,
Go to Configuration > General Information,
Go to the section/tab called "Internet Ressources",
Select Napa Prolink SE in the list,

Otherwise create it by clicking on the "+" sign,
Enter a Company Name (e.g.: Napa Prolink SE),
In Category, enter 200 (PARTS),

In the Address field, enter https://www.napapunchout.ca/prolinkppse/punchout.aspx

,

Make sure to have Napa Prolink SE as a Template,
IMPORTANT! In the User field, enter your NAPA Prolink SE - ID (or account number) followed by the "\" symbol, followed by your email address
(e.g.: 21hjh-213jkj-as\

This email address is being protected from spambots. You need JavaScript enabled to view it.

 )
Enter your NAPA Prolink SE - Password,
Click on the diskette to save,
Click the door icon to quit.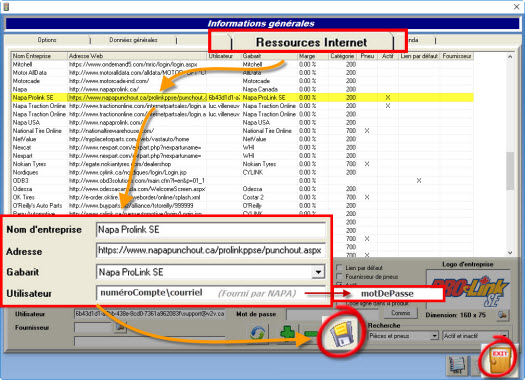 The use of NAPA Prolink SE
In the main menu,
Go to Point of Sale,
Open/Create an estimate or work order,
Right-click on the button "F7 Parts" (Parts suppliers online),
Click on NAPA Prolink SE,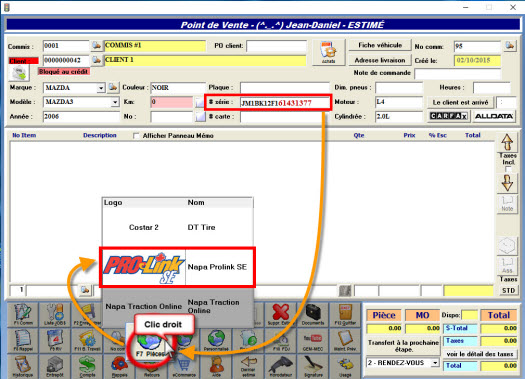 Click the "Search" button,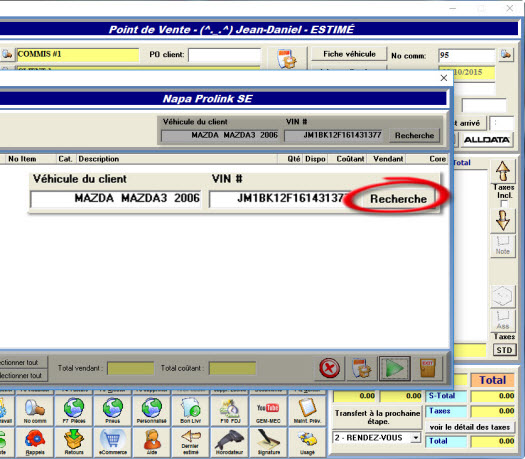 Click "DECODE VIN", then " SEARCH BY VEHICLE",
Add your quantities (Under the column "Qty to add"),
Click the "TRANSFER" button to add them to your order list located at the bottom of the window,
Click the dollar sign "$" to transfer to GEM-CAR,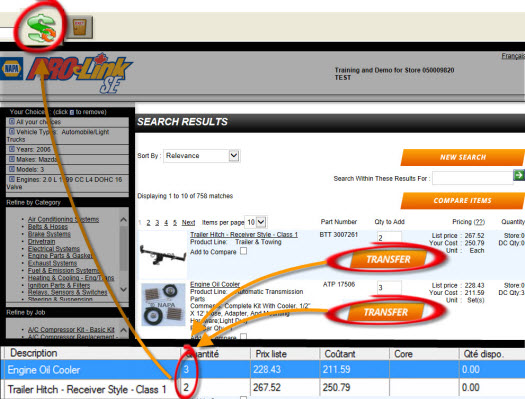 In the "Napa Prolink SE" transfer window, 
Verify your order and transfer it,

To transfer the parts to the Point of Sale, click on the green triangle,
To transfer the parts to a purchase order, click on the sheet icon.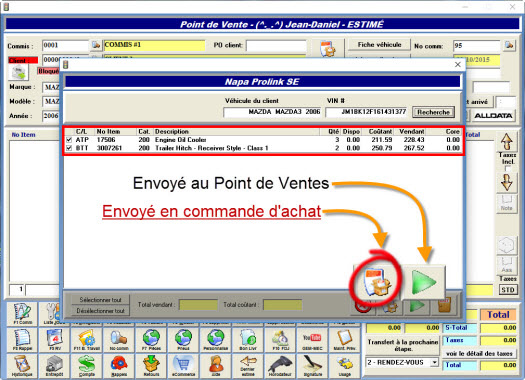 NOTE: A NAPA stock check is done during the transfer and a message will warn you in case of no availability.
*** For the purpose of this example, we clicked Yes just to show you the next step ***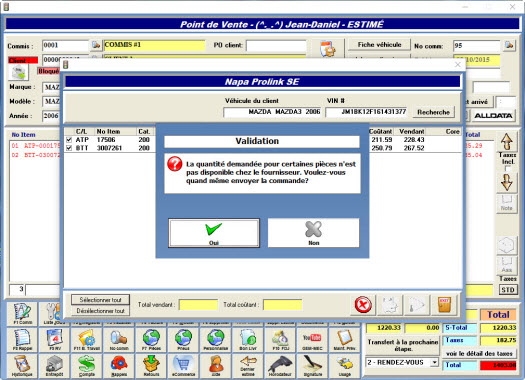 Complete and finalize your purchase order.