In the POS, enter the customer's number like you would for a new order,

Click on the Customer Search Icon,

Click on the Accounting tab,

In the Specific rebates section, click on the Add icon,
In the Group Management window, Double click on the specific Group related to that customer,
To create a new group or special fleet agreement:
Or, if the Group has not been created, click on the top Add Icon,

Enter the name of the Group and click the Save icon,

Click Save,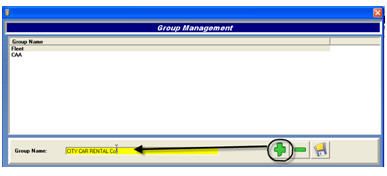 The new group is now listed,

Click on the new group to highlight it,
In the bottom left panel, select one of the options, (example: Category 300 - labour),

On the right panel, enter the specific behaviour. (example: labour rate is 57.00).
Click Save,

To assign this new group to the customer, double click on the group name,

Once back on the customer's file, click Save and Exit.

NOTE: All changes will only take effect on future orders only.