Inventory management is an important part of any repair shop. It's essential to keep track of the parts and supplies that are needed to complete jobs and keep the shop running smoothly. Having too much inventory can lead to unnecessary costs while having too little can lead to lost business and dissatisfied customers. This article will provide 10 tips to help reduce inventory levels in a repair shop and keep costs low while still meeting customer demands.

Your inventory should rotate 3 to 7 times a year depending on your delivery time context. In fact, we often give a lot of general ideas, but in this article, you will have access to tips on the procedures to follow to help you. After all, your inventory represents money that you don't have in your bank account.


The first step in reducing inventory levels is to monitor and analyze your current stock. Keep track of what parts are frequently used, what parts are in high demand, and what parts are rarely used. By understanding what is being used and what is not, it will be easier to identify areas where inventory can be reduced.
Order your parts when you need them without keeping inventory except for items with a high inventory turnover. It then becomes important not to forget an order for a customer. The best practice for with simple management is to order as soon as you make an appointment within a week. Your management software offers you the management of material reservations based on a production step. For example, an estimate at the appointment step generates a room reservation. If the part is not in stock, order it now. If the appointment is far away, an "Upcoming appointment" step should be created so as not to reserve rooms. So by scheduling customer visits in advance, you won't have to keep inventory.
Read the FAQ : management of stages with reservation in your GEM-CAR
With GEM-CAR, you can connect hundreds of parts distributors that lead you to order the correct parts by pushing the VIN. This practice will allow you to reduce the number of parts that do not meet your needs and which in addition affects your repair time.
Read the FAQ: list of distributors with online catalogs that are integrated into your GEM-CAR
Make a habit of returning new, unused parts on an order immediately. This is one of the main differences between a parts supplier and a real business partner. By guaranteeing a certain purchase volume, this practice becomes important.
Read the FAQ: list of partner suppliers with GEM-CAR
Read the FAQ: Return new parts and core
The theory is easy, but how to determine which product to stock with minimum and maximum quantities. The solution is to keep in inventory the items for which you have regular services for your regular customers vs ABC inventory management. By selecting an oil change service over a period of one year with a customer who has 2 or more visits, you will be able to pull out their list of vehicles with their characteristics. By exporting this report, it will be easy to give it to your parts distributor in Excel format. The latter can then build with his filter specialist a series of Min/Max per item. Use the automated reorder purchase order module to ensure parts are restocked when they reach a pre-determined level. 
Read the FAQ: Get a list of vehicles that have come in the last year for an oil change

Read the FAQ: Automatic purchase order based on Min/Max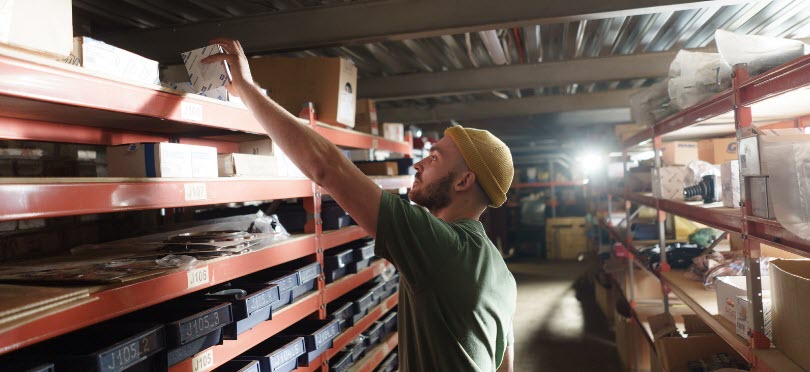 By configuring your parts in inventory with alternative parts, you can then reduce your inventories rather than ordering a new part. It is therefore important to validate in which direction the replacement can do this or to apply a bidirectional replacement. Ex for some Coke is a good replacement for a Pepsi and for others not!
Read the FAQ: Alternate Parts Management
It often happens that several distributors sell the same part with a different code. When this happens, it is important not to duplicate the part. Indeed, it is preferable to add a supplier code to your product in inventory. It will appear on the purchase order to the supplier and will automatically be replaced by the internal code by adding it to your estimate.
Read the FAQ: configuration of supplier product codes in your GEM-CAR
Returning your inventory that isn't rotating is a good practice. By working with your parts distributors as partners, you should be able to return 1-3% of your purchases within a year. Schedule this task every year at the same time. Your management software outputs a list of items not sold in the last year. Otherwise, run your finger over the box. If there is a lot of dust it is time to return the part.
Read the FAQ: output the report of parts that do not rotate in your GEM-CAR
If for some reason you cannot return items that are dormant in inventory, consider selling them. Some websites like E-bay allow you to do this easily. Remember to identify them with a barcode sticker.
See FAQ: print a barcode product label sticker. 


Every month, take out an inventory value report to assess your trend. With your software, you can at any time output the value of your inventories on a given date by excluding categories such as tires. Indeed, an order for tires that comes in at the start of the season could also hide a general increase in other items. Because tires are expensive, it is important to manage them separately.
Read the FAQ: outputting an inventory value report at an earlier date
By keeping your inventories low, you will keep your money in your bank account. This practice will allow you to recover your 2% payment discount. Annualized, the latter amounts to a return of 38%: take a margin if necessary
Read the FAQ: What percentage is the 2% prompt payment discount