The simplest way is to assign jobs to technicians via the Appointment calendar.
Step 1 :
Work Bay configuration
Close the POS (Point of Sale) window and, from the Main Menu, select "Planning",
From the  "Planning" menu, select "Work Bay Management",
Add and/or select your  technicians  (We recommend managing the technician time vs. work bays),
Enter the technician's initials (The initials will then appear in brackets next to each job on the estimates,
If you also add the total Hourly Cost for each technician, you will get the added benefit of Performance Report,
Click SAVE.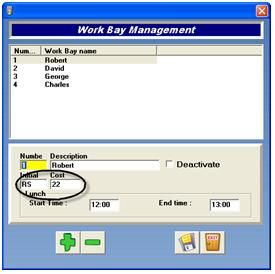 Step 2 :
Associate a specific work bay or technician when entering jobs
From the POS (Point of Sale) window, start an estimate as usual,
Enter a Job code, example; J1, Oil Change & Inspection,
From the Door pull-down menu, select the desired Work Bay or Technician,
Once you have pressed SAVE or F2, the Technician's initials will appear next to the Job,
Estimates and invoices will also have the Technicians name for every job done.

Note: You can assign different Technician for different Job on the same estimate.