Select a job in an estimate.
Enter the note in the "Internal note" box.
Enter or press "F2".
In the punch clock window, associate a technician with a job.
Click in the "Internal note" zone.
Enter or complete the note.
Click on the door icon to save and exit.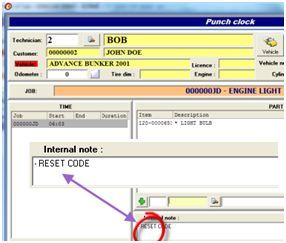 Internal note in the calendar
Display an internal note by moving your cursor over the calendar. The details of the appointment will appear in the white box.
Note: If an appointment has an internal note, a small yellow icon will appear in the top right corner.