GEM-CAR offers integration to the PartsTech catalog. They are an automotive web-based ordering platform designed to meet the needs of today's mechanics, manufacturers, and suppliers. With their parts search and ordering catalog, advisors can automatically compare and transfer parts to their point of sale window.  
Transfers part, code, description and cost

Selling can be also downloaded or push to a matrix, 

Quantity validation is available to check stock,

VIN decoder,

Push order from GEM-CAR to the PARTSTECH.
The benefit of using an online catalog:

Use the distribution inventory as your own inventory,
Reduce mistake while ordering using the VIN decoder,
Look at part images before ordering,
Special discount based on the volume available.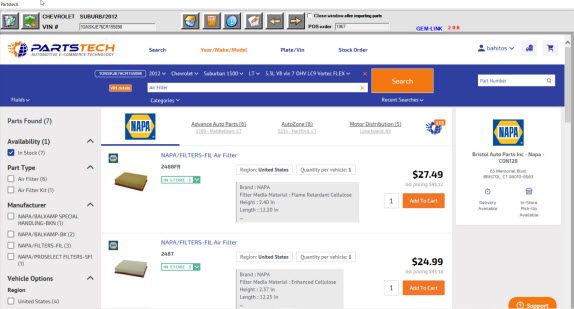 Discover by yourself how easy it is to create an estimate using the catalog

PartsTech provides a marketplace that transforms and disrupts the automotive industry by creating a single platform for mechanics to search, identify, and order auto parts from over 26,000 local distribution locations. Including distributors like AutoZone, Napa, and Advance Auto Parts.

The organization is transitioning this 385+ billion dollar market, still dominated by telephone orders, by digitally providing accurate data on products, pricing, and inventory in the industry.

They are currently operating one of the world's largest databases of automotive parts and fitment information, supplied directly by over 1,900 manufacturer brands who trust our technology. PartsTech leverages our connectivity and infrastructure capabilities to provide API integrations for enterprise shop management systems.

Head office info: 1 Broadway, Cambridge, MA 02142, United States

FAQ : How to set up an account with Partstech